And it's back to deflation: after five months of readings slightly above zero, Eurozone headline inflation dipped into negative territory again in September. Today's Eurostat flash estimate shows Eurozone inflation at -0.1%YoY, down from +0.1% in August. The decline is fully attributable to a fall in energy prices: September inflation excluding energy is unchanged at 1.0%. A litre of Euro95 gasoline at the pump fell from €1.43 in August to an average €1.37 in September. For now, Eurozone fuel prices remain above the January low of €1.30 though.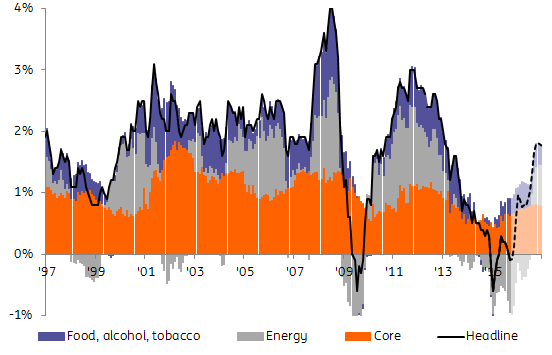 Outside of energy prices, there is little action in September's inflation numbers. Core inflation held steady at 0.9%. Non-energy industrial goods inflation fell a tenth to 0.3%, while services inflation crept up to 1.3%.
ECB-president Draghi will have to tolerate inflation around zero for just a few more months, as low energy prices continue to drag down headline inflation. From December onwards however, energy will become a less important factor for headline inflation due to 'base effects' (consumer energy prices started their steep decent last December). That should cause headline inflation to quickly recover to between 0.5% and 1.0%YoY, where it will likely remain for some time. This may diminish the pressure on the ECB to expand its QE programme. But with continuing high unemployment (unchanged at 11.0% in August) guaranteeing little nominal wage pressure, core inflation looks set to remain well below the ECB's comfort zone of just below 2% in the foreseeable future. Talk of QE expansion and extension will therefore remain with us for some time.