Eurozone Q2 GDP growth was adjusted upward to 0.4%QoQ in Eurostat's 2nd estimate, up from 0.3% in the preliminary estimate – although rounding helped a hand here, as growth turned out at 0.36%QoQ. But The first quarter was revised up too, from 0.4% to a genuine 0.52%.
GDP growth was driven primarily by net exports, contributing 0.3%-point to quarterly growth. The fall of the euro in the preceding two quarters has likely contributed to that. As often happens, the jump in net exports ate into inventories, which in turn subtracted 0.1%-point from quarterly GDP. Household consumption remained a reliable growth engine, contributing 0.2%-point. Consumption did decelerate somewhat in Q2 compared to the previous quarters. Investment disappointed, subtracting 0.1%-point from quarterly growth, although that comes right after a strong and upwardly revised first quarter.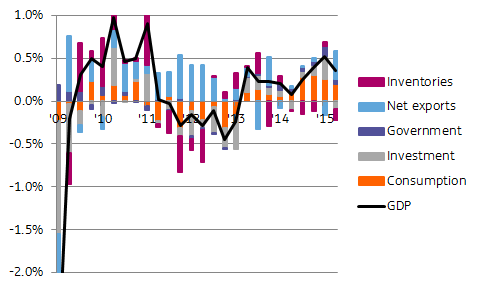 Looking at individual countries, the Q2 recovery was made in Germany, but just as well in Spain. Eurostat's detailed GDP estimate shows that both countries contributed about 0.1%-point to the region's GDP growth. Italy came in third, contributing 0.05%-point.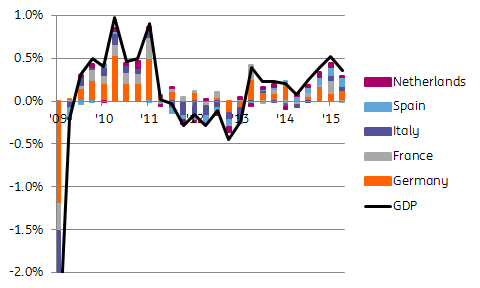 In sum, today's figures show that the Eurozone economy was continuing its modest recovery in the second quarter. The first indications for the third quarter are more of the same. Employment is increasing. July retail sales were decent, showing that consumers continued to spend despite Greek and Chinese turmoil. Soft indicators such as the PMI and the European Commission sentiment survey have improved slightly in July and August, compared to Q2. Moreover, bank lending to non-financial businesses is finally recovering, suggesting that the third quarter may bring a pickup in investment. That would be an especially welcome sign of a broadening recovery.
With upward revisions to both the 1st and 2nd quarters, a 1.5% growth rate for 2015 comes back within reach. That said, risks to the Eurozone outlook remain tilted to the downside, as ECB-president Draghi was at pains to point out last Thursday. That is especially true for inflation: low commodity prices could push headline inflation back towards zero and in any case delays the recovery of inflation towards the ECB comfort zone. An intensification of the ECB's QE programme is not off the table yet.