The US, the UK and the euro area are now in the seventh year following the financial crisis. Are the seven lean years over, financially speaking? This is the question I seek to answer in this report. Here are the main conclusions:
In both the household and non-financial business sectors, only the Eurozone periphery is actually reducing debt. The US, UK and euro area core are deleveraging by growing income. In the Eurozone periphery however income is stagnating.
The US, UK and Eurozone core compare favourably with Japan in the 1990s, where household debt ratios stagnated and business deleveraging was slow. Especially in the Eurozone periphery business sector, deleveraging may not be over.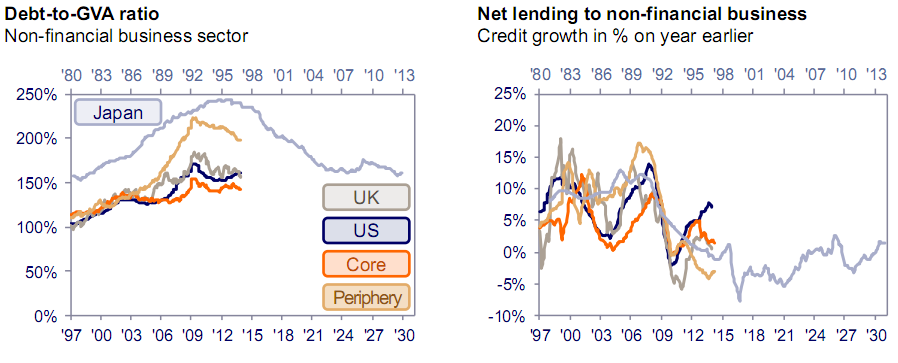 Japan on upper time scale, UK/US/Eurozone on lower time scale. GVA = gross value added.
Deleveraging however does not preclude growth. This is important especially for the Eurozone periphery.
Corporate debt issuance has partly compensated for the slowdown in bank lending and stagnation of securitisation in most countries. But banks still account for over half to two-thirds of credit outstanding in Europe. This figure is less than one-third in the US
Have a look at the whole report (its 18 slides make it easy to digest) and let me know what you think!